I am so excited to see that my children's book,
Mom is Sick & It's Okay
made the
Chanticleer Awards Little Peeps Long List
! This is a book really close to my heart. It has been so well received at all the book events I do. There have been several comments on how they wish there was a book like this when they were younger.
I'll be doing a second
Mom Is Sick
, but it will be more general to gear with other chronic diseases. The illustrations will be the same and most of the wording will stay the same, but I'll just take out the parts that are strictly MS-related.

These titles have moved forward in the judging rounds from SLUSH pile to the 2019 Little Peeps Book Awards LONG LIST. These entries are now in competition for 2019 Little Peeps Shortlist. The ShortListers' works will compete for the Semi-Finalists positions. Semi-Finalists will be announced and recognized at the CAC20 banquet and ceremony. The First Place Category Winners, along with the CIBA Division Grand Prize winners, will be selected from the 16 CIBA divisions Semi-Finalists. We will announce the 1st Place Category winners and Grand Prize Division Winners at the CIBAs Banquet and Ceremony on Saturday, April 18th, 2020 at the luxurious Hotel Bellwether in Bellingham, Wash.
These titles are in the running for the SHORT LIST of the 2019 Little Peeps Book Awards for Early Readers and Children's Picture Books.
Good luck to all as your works move on to the next rounds of judging.
Sylva Fae and Katie Weaver – Elfabet
Laura Lynn – Something Special about an Anemone
Lauren Mosback – In Grandpaw's Pawprints
Lauren Mosback – My Sister's Super Skills
Cheree Finley – W-B-C Team
Dawn Marie Thompson – Double Trouble
Dawn Marie Thompson – Barnyard Bully
M. Lisa Rinaca – Nate and The Nanticoke Clipper
Trevor Young & Eleanor Long – Galdo's Gift: The Boovie
Norma Lewis – Let All Things Now Living
Norma Lewis – Totem Pole
Norma Lewis – The Canter Beary Tales
Ginger Smith – Ella Bella Clap Your Hands
Kizzie Jones – A Tall Tale About Dachshunds in Costumes: How MORE Dogs Came to Be
Robert Wright Jr – Mummy in the Museum
M Lisa Rinaca – Maddie and Jake
Marianne Andresen Magin – The Legend of Santa's Sleighbells
Remi Nicole – Oh Please, Peetie!
George Yuhasz – Imagine That: The Magic of the Mysterious Lights
Angie McPherson – My Mom Is Sick and It's Okay
Stephanie Dreyer – Not A Purse
Connie Sorrell & Susan Cole – When Cows Pass The Hat Around
Mojy Sadri – Puppy Doesn't Laugh
Justine Avery – What Wonders Do You See… When You Dream?
Lucy Patterson Murray – Dream Island
Ellie Smith – Tex the Explorer: Journey Around the Earth
Shana Hollowell – When the Squirrel Sings
Mary Troxclair Adamson – Yo, Ho! Armadilleaux!
Arlene Gillo – Bruce Wayne Is Insane: Meeting Ninja Kitty
William Tracy Byarlay – Adventures of Kalham and Britton: Fly with me
Gregory Pohl – The Impossible
Linda Bledsoe – Pigs Can't Skate
Oleg Kush – 1 & 0, Lion & Mouse, Aries the Sheep and Other Fairy-Tales
Kasey J. Claytor – Pinky, And The Magical Secret He Kept Inside
Edyta McQueen – Girly Girl Adventure: Rescue on the Ski Hill
Ann Riley Cooper – Catch and Release
Juilette Douglas – We are Awesome Possums
M.J. Evans – Percy-The Racehorse Who Didn't Like to Run
Kelly Carter – In the Shoes of… James | In the Shoes of… Trey
Keri T Collins – You Can Call Me Katelyn
J. Steven Young – Gus and the Winter Sprite
Johnny Ray Moore – Anthill for Sale
Melodie Tegay – Hannah's Two Homes: life in a "blended" family; a 5-year-old's perspective
Which ones of the above works will move forward in the judging rounds to the 2019 Little Peeps Book Awards Shortlist?
The excitement builds for the 2019 CIBAs!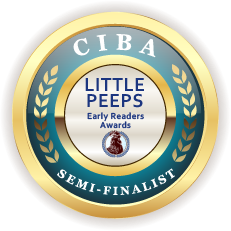 The 16 divisions of the 2019 CIBAs' Grand Prize Winners and the Five First Place Category Position award winners along with recognizing the Semi-Finalists will be announced at the April 18th, 2020 Chanticleer International Book Awards Annual Awards Gala, which takes place at the Chanticleer Authors Conference that will be held in Bellingham, Wash.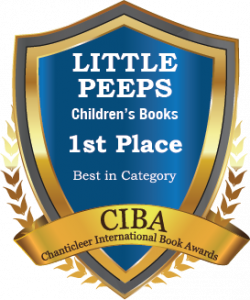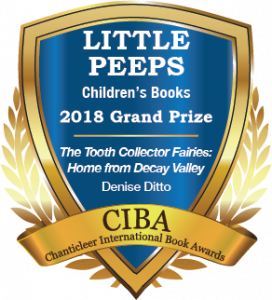 We are now accepting submissions into the
2020 Little Peeps Book Awards.
As always, please contact us at Chanticleer@ChantiReviews.com with any questions, concerns, or suggestions!