I was so excited to see
My Mom is Sick and It's Okay
has made Chanticleer's Little Peeps Semi Finalist list! This book is special to my heart, and it's great to see others find it special, too. I wish I could go to the awards banquet in April, but it's so far away. The cost is quite steep. So, I'll stay in Indiana and cross my fingers for good news. Even if I don't progress past this point, it's been a honor to get this far.
The Little Peeps Book Awards recognize emerging new talent and outstanding works in Early Readers and Children's Picture Books. The Little Peeps Book Awards is a division of the Chanticleer International Book Awards (The CIBAs).
Chanticleer International Book Awards is looking for the best books featuring stories of all shapes and sizes written to an audience for Early Readers. Storybooks, Beginning Chapter Books, Picture Books, Activity Books & Educational Books that appeal to children to compete in the Little Peeps Awards that discover today's best children's books.
These titles have moved forward in the judging rounds from SLUSH pile to the 2019 LONG LIST to the Little Peeps Shortlist and
have now advanced to the Little Peeps Semi-Finalists positions.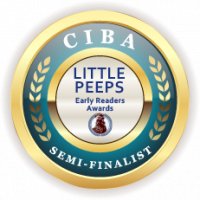 Congratulations to all of these 2019 Little Peeps Book Awards for Early Readers and Picture Books Semi-Finalists
Sylva Fae and Katie Weaver –

Elfabet
Lauren Mosback –

In Grandpaw's Pawprints
Lauren Mosback –

My Sister's Super Skills
Dawn Marie Thompson –

Double Trouble
Trevor Young & Eleanor Long –

Galdo's Gift: The Boovie
Norma Lewis –

Let All Things Now Living
Norma Lewis –

Totem Pole
Kizzie Jones –

A Tall Tale About Dachshunds in Costumes: How MORE Dogs Came to Be
Robert Wright Jr –

Mummy in the Museum
Marianne Andresen Magin –

The Legend of Santa's Sleighbells
Angie McPherson –

My Mom Is Sick and It's Okay
Justine Avery –

What Wonders Do You See… When You Dream?
Lucy Patterson Murray –

Dream Island
Shana Hollowell –

When the Squirrel Sings
Oleg Kush –

1 & 0, Lion & Mouse, Aries the Sheep and Other Fairy-Tales
Kasey J. Claytor –

Pinky and The Magical Secret He Kept Inside
Juliette Douglas –

We Are Awesome Possums
Johnny Ray Moore –

Anthill for Sale
Melodie Tegay –

Hannah's Two Homes: life in a "blended" family; a 5-year-old's perspective
These titles are now in the running for the First Place positions of the 2019 Little Peeps Book Awards for Early Readers and Picture Books.
Semi-Finalists will be recognized at the
2020 Chanticleer Authors Conference
and the 2019 CIBA banquet and ceremony. The First Place Category Winners, along with the CIBA Division Grand Prize winners, will be selected from the 16 CIBA divisions Semi-Finalists. We will announce the 1st Place Category winners and Grand Prize Division Winners at the CIBAs Banquet and Ceremony on Saturday, April 18th, 2020 at the luxurious
Hotel Bellwether in Bellingham, Wash.